---
EGG is archetypal – perhaps the world's most potent Fertility symbol. We know human embryos develop from an egg, but it's so tiny we can't see it. So the lowly chicken egg gets to hold the honor of Fertility Power. Chinese myths of a dan – an egg or gourd – describe something born out of nothing. The same dan describes our dan tian, the "elixir field" in our navel center. It's where we birth our body out of nothing.
Huang ji is the Tipping Point, the moment the cosmic egg cracks open. Yin-Yang first move, and Creation begins. Why or who cracks open the egg? It's a Mystery. Egg definitely came first, before the chicken. Tao cosmology says the egg is still cracking open. Our process of eternal birthing is happening NOW.  We don't need to get the cosmic yolk (joke). Just laugh. Spring and Easter is a great time to celebrate it!
Enjoy my essays on the Tao of Easter Eggs and the I Ching on blood sacrifice festivals.
Image: amorina ashton
———————————–
NOTE: Healing Tao USA online FORUM has been re-launched. It has received over 20 million visits, more than any Tao discussion site on the internet. Please join the fun, share at: https://healingtaousa.com/forum/
Inside Chi Flows Naturally:
2017 TAO Trainings: CHOOSE your highest path NOW!
Asheville workshops: contact Jan: 888 999 0555 or info.healingtaousa@earthlilnk.net
1. April 15 – 16, 2017 (Sat/Sun): Asheville. Fusion of the 5 Elements 2 & 3. Psychic Alchemy Opens MACRO-cosmic Orbit, 8 Extraordinary Channels. Late signups accepted.
2. April 28-29, 2017. NYC Open Center (212 219 2527). Fri 7-10p: Sexual Energy as Taoist Alchemical Elixir.   Sat 10a-5p: Tao of Self-Love: Inner Smile & Red Dragon Orbit. See below.    https://www.opencenter.org/events/tao-cosmology-essential-tools-self-cultivation-inner-smile-red-dragon-microcosmic-orbit/
3. May 12-14: Romania. Primordial Tai Chi: Way of Self-Love. Together with Richard Rudd, Gene Keys. contact: Andrew Fretwell <tao.alchemy@gmail.com>
4. May 20-21: Sofia, Bulgaria. Wudang Red Dragon Spinning Pearl Orbit. contact: Mariela Taskova <universaltaobg@gmail.com>
5. May 26-29, 2017 (Fri – Sun): Omega SUPER QI SUMMIT. See photos of teachers below. https://www.eomega.org/workshops/super-qi-summit?source=fweb.winnm.ws
6. June 16 – July 18, 2017:  Asheville. Five Weeks of TAO SUMMER RETREATS. see below – or visit http://www.HealingTaoRetreats.com. Save your spot online with $150. deposit.
FEEL FREE TO HIT REPLY and RESPOND. I love hearing from you!
Mystical Tao of Egg Power: female souls "lay" the egg that births our body.
Dear Lovers of the Tao of Easter,
Hope you are enjoying the Easter vibe: chocolate easter eggs (potent love aphrodisiac), estrogen and Esther (female fertility names related to Easter); bunny rabbits (symbol of sexual copulation): and Jesus's Resurrection – the religious myth of Eternal Rebirth.
Taoists obviously don't celebrate Easter, but they are big on the cycles of nature and its Eternal Rebirth. Their notion of resurrection is more immediate, and not tied to one divine messenger. Taoists describe ascension as being possible for anyone who cultivates deeply using qigong and especially internal alchemy. Depending on your spiritual virtue and skill, you can rebirth yourself as a human, earth, heavenly, or celestial Tao immortal.
Taoists are also very big on Divine Eggs. It is the cosmic egg or gourd that cracks open and births the dynamic yin-yang and 5 phase cycles of creation in Tao cosmology. When you cultivate your dan tian, one meaning of  "dan" is "egg". Like a hen sitting on an egg, the Tao cultivator "sits" in the field ("tian") of Original consciousness pouring in from the Gate of Life (mingmen) between the two kidneys. We gather Original Breath (Yuan Qi) from the mingmen and shape it to "hatch" our body-mind and soul destiny.
One major difference between Taoists and Christians is that Christians pray for resurrection in an afterlife. Taoists assume there is a seamless continuum between mortal and immortal realms, between life and the illusion of death. They seek to cultivate an experience of Eternal Life NOW. The formless realms of spirit are actually hidden inside our dan tian.  We don't have to wait for death to know our after-death options.
I'm always confused about the date of Easter. Most Christian sects can agree on a single birthday for Jesus (Dec. 25), but have to change the date of his Resurrection every spring by many weeks. It hints strongly of Easter's pagan roots as a spring fertility festival.
Speaking of fertility festivals, some years back I snapped this photo of two turtles humping in my garden. The upstretched neck of the upper turtle suggests he is having an orgasm. I bet he is wishing he could unstrap both of their shells and get into more of the soft stuff….:).
Turtle Love in my Garden. I took this as a strong omen that I would find a wie and have a child. Seems the omen was correct.
This is all warm up to the subject at hand: did Jesus – likely an immortal by Tao standards – really DIE on the cross, bequeathing us Easter as a result?
To answer this question, I am reprinting a review of book about the life of Jesus as seen from the perspective of Pontius Pilate, the Roman governor of Judea. The book by Michael Morgan is not fiction, but is based on direct witnessing. I happen to agree with this book's thesis that Jesus did NOT physically die on the cross, but rather lived for another 40 years, continuing his ministry from the Luxur Temple in Egypt. Read below for the full story…..
Soul Alchemy: Fusion 2/3 April 15-16
• April 15-16, 2017  (Sat/Sun) in Asheville, N.C Sat 9-6; Sun 9:30 am – 6 pm.
OPEN YOUR 8 SOUL CHANNELS: FUSION of FIVE ELEMENTS 2 & 3.
Open Macro Orbit: 8 Extraordinary Vessels, Develop Psychic Abilities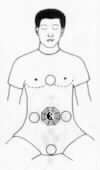 Internalized bagua opens the 8 Extraordinary Vessels    
• Secrets of growing a powerful Energy Body
• Psychic alchemy: open 8 core channels
• Supercharge spine in spirals of golden light
• Open thrusting, belt, arm & leg channels
• Heal chronic illness & deep pre-natal trauma
• 8 Extraordinary Vessels Qigong (on DVD)
• Pangu Mystical Qigong (on DVD)
If you cannot attend live workshop, consider getting the homestudy course.
The 8 Extra Vessels connect the inner and outer Qi (chi) field, and allow you to "dance" between your inner and outer life. The Wudang Mountain version of the macro-cosmic orbit will also be taught as the most powerful internal method I've found for integrating the 8 Extraordinary Vessels into a continuous flowing circuit.
This Wudang Mountain version of the macro-orbit lays a foundation for opening Qi (chi) flow between the 8 Original Forces of Universe (I Ching trigram-tones). A powerful "8 Extraordinary Vessels" qigong form makes this practice simple to remember. It heals deep psychic imbalances not reached by acupuncture. Many mysterious chronic illnesses can be healed at this deep channel level, much faster than using acupuncture or herbs working on the 12 regular meridians.
This opening of Qi flow in the Eight Extraordinary channels links your pre-natal and post-natal energy bodies, i.e. the deep structure of how you birth yourself each moment. This is why the training also opens up psychic abilities. These abilities are simply the result of having clear channels for communication between the soul and the personality.
We'll learn to purify our aura & regulate our Energy Body with belt & thrusting channels. Give to and Receive chi from the environment with Positive & Negative Arm & Leg channels.
Another practice taught is my "9 Spirals of the Energy Body" in the four directions to integrate the Five Shen with the Five Directional Dragons. This practice connects the internal flow of your macro-cosmic orbit out to the edge of the universe and back! A wonderfully empowering and healing journey.
This course lays a strong foundation for Healing Love and Water & Fire (Kan & Li) Alchemy. $144. for weekend, $90. reviewers. Pre-req: Microcosmic Orbit & 6 Healing Sounds (Qigong Fundamentals 1 & 2), live or by homestudy. You can learn the energy channel work of Fusion 2/3 without doing the emotional body/inner pearl work of Fusion 1. But it is optimal to first learn Fusion 1. Contact: Call 828-505-1444 to register or email info(AT)healingtaousa.com
Location:  Asheville Training Center, 261 Ashland Ave., Asheville NC. 2 long blocks south of downtown. Enter alley behind Town & Mountain Realty.
http://ashevilletrainingcenter.com/directions.htm
15 Amazing Summer Retreats to Choose From
Are you ready to DIVE into the Tao this summer?
Learn from top Qigong, Tai Chi, meditation & healing masters!
Join the largest and most diverse Tao arts community in the West!

Rachel Harding, Registrar
Call her for help!  828 713 2996
21 years successful history!
Everyone welcome – beginner to advanced
Great people, good food, high energy – at a low cost!
Only 35 minutes from Asheville Airport (AVL)
Get Certified in Tai Chi, Qigong, Energy Healing!
Weekly Tuition only $550. – an incredible value!
Discounts for multiple retreats, Jr/Sr., foreigner, early payment.
Visit website for details on each retreat.
Select one retreat per week.
Commuters welcome.
To book, visit http://www.HealingTaoRetreats.com
Prefer email?   summersupport@earthlink.net
Plan to arrive 2-5 pm the Friday your retreat starts.
Note that we have TWO new instructors on the Healing Tao USA faculty. Both are fabulously talented teachers and we welcome them enriching our offerings this summer.
Mary Ellen Derwis in Week 4: Chi Nei Tsang 2: Chasing the Winds.
Week 5: July 14- 19, 2017 (Fri-Wed)
Did the Immortal Jesus Really Die on the Cross? Book Review
This is the book cover of a different book by author Michael Morgan, called the Emerald Covenant. I'm posting it because fits well with Cracking Open Cosmic Egg theme. Author told me he changed this cover because it was too scary for a lot of people….:)
Book Review by Michael Winn
Pontius Pilate and his Gospel of Jesus: A Tale of the Christ
by Michael E. Morgan. 249 pages. Available on Amazon.
I met Michael Morgan 34 years ago at Mantak Chia's first Greater Kan & Li retreat in 1983. He made his living as a scientist, was a serious practitioner of several esoteric paths, who by accident later became the best full trance channel I've ever met. His Healing Tao training may have helped open him up to receive teachings from a Western Immortal from the time of Atlantis, 50,000 years ago. I interviewed this Immortal over a 6 year period and plan to publish that book of interviews after I publish my Primordial Tai Chi series (really!). I have drawings done for it by Juan Li.
Michael shifted away from channelling and now uses his considerable psychic skill to read what is popularly known as the "akashic record". This is the aspect of the Life Force that holds total memory of everything that has ever happened in any dimension of this Cosmos. Michael supplemented this with extensive historical research as well.
Naturally, there are a variety of perspectives recorded in the Akasha, so Michael's history also involves his subjective editing. But I consider his skill sufficiently good to move this Easter tale far beyond the realm of an "imagined" historical novel, and know that his Atlantean guide previously confirmed many of these details of the life of Jesus when asked.
This story is about the last three years of Jesus's life. It is  told from the perspective of Pontius Pilate, the brutal Roman governor of Judea, who tracked Jesus closely as part of his job to maintain order amongst the rebellious Jewish population. Pilate employs Paul (formerly Saul of Tarsus) as a spy, who penetrates jesus's inner circle and sends him reports.
Pilate becomes intrigued by Jesus's obvious powers, as a military man who respects any display of power. He meets with Jesus several times, and secretly becomes an admirer of his teachings. But historical forces – Roman law, an angry King Herod, and Jewish jealots who dislike Jesus's breaking of their temple taboos – all combine to force Pilate to condemn Jesus to death by crucifiction.
But Pilate plots to save Jesus' life by partly faking the crucifiction. Jesus is given an Essene drug that induces a coma for three days when he is given a sip of vinegar while nailed to the cross. He is left for dead, but is later revived and taken away by Joseph of Arithemea. Pilate arranges for Jesus to be hidden in Egypt's Luxor Temple, where he continues his ministry (mostly by astral projection) for another 40 years.
The story is plenty gory; the dark forces at the time were very strong. All of Jesus' disciples are portrayed as fairly spineless whimps who end up being brutally murdered by the Romans. Mary Magadalene, Jesus' pregnant wife, is sent off to southern France. There both her children and her sister Martha are murdered by Roman agents; she much later dies, broken-hearted and alone. By curious twist only the brutal Pilate lives out to his natural old age, perhaps redeemed by his saving Jesus.
So why did God allow Jesus to go through so much suffering, even if he did NOT in fact "die for our sins"? In this telling, God (an oversoul aspect of Source) overshadows Jesus for three years only, to demonstrate the potency of the Life Force when applied compassionately. Then God withdraws the empowerment, and leaves Jesus to fend for himself,  in order to more deeply experience his own vulnerability and develop true compassion for those who suffer. It also allows for the expression of free will (as love) by Pilate and others involved in the drama.
The church founded by Paul – confirmed in this telling as homosexual, phobic, and treacherously selfish – later becomes the Roman Catholic church, and has little to do with Jesus' original ministry focused on divine love rather than martyrdom, death, and suffering.
From my own investigation, I believe that Jesus spent much of his "missing" 18 years being trained in the alchemical arts by the Egyptian priesthood at Karnak, then the major center of learning. Karnak was unfortunaely corrupted by dark forces. Part of Jesus' work was to challenge that darkness and attempt to prepare the energy body of planet earth for ascension. He failed, as the contraction of the dark side was too strong at the time.
The era we modern people live in is witness to the liberation of the planet, due to the spiritual work of many on Earth in the 2000 years since Jesus's vain effort. Christianity, like many religions, has had two millennia to become an accumulation of both light and dark human thought-forms in the astral mid-plane.
Historians have documented that the Romans used Christianity to replace a hodgepodge of other cults of the time, most prominently Mithraism. In both religions the power underlying the Christ is the Solar Logos or Solar Deity at the heart of life in this solar system, and reflected in every human heart. Mithraism's mythos also included a divine child and redeemer.
I follow the Taoist alchemical path beause it removes all the dogma and confusing layers of mid-plane religious thought forms and myths, and goes directly to empower the adept's human virtues with that of the natural deities of the sun, moon, earth, and stars. I accept that Jesus was a highly achieved Western immortal serving the whole as best he could in the difficult circumstances of his day.
I have given a thumbnail sketch of Michael Morgan's book, but suggest you read it to get his skillfully woven details and authentic feel for the dynamic events of that time. For those uncomfortable with the meaning implied by the term "God", I suggest replacing it with the Taoist notion of the Original Oneness (Tai Yi). This a 3-in-1 Trinity that alchemically would be defined as Original Spirit, Original Breath, and Original Essence (yuan shen, qi, and jing).
Omega Super Qi Summit May 26 -29 (Fri-Mon)
Healing Ourselves, Healing Others
For detailed schedule of this 3 day weekend, visit:
https://www.eomega.org/workshops/super-qi-summit?source=fweb.winnm.ws
Conceived and curated by Michael J. Gelb, the Super Qi Summit is designed to allow participants to benefit from the synergy between each of the presenters who together bring more 300 years of experience to the Summit.
The last Super Qi Summit two years ago was a great success. This is for folks who want a smorgasbord of stimulating Qi. If you want focused depth or seek to cultivate a particular skill, take a summer retreat near Asheville in June or July. This May summit is a fabulous opportunity for tasting a little bit from a lot of different teachers, who are each great in their own Way.
The TEACHERS
Ken Cohen, MA, is a renowned grandmaster of qigong and tai chi with nearly 50 years of experience. A former collaborator with Alan Watts, Cohen is author of The Way of Qigong, numerous works in both English and Chinese, and more than 200 journal articles on spirituality and health. kennethcohen.com
Michael J. Gelb is author of 14 books, including the international best seller How to Think Like Leonardo da Vinci. A pioneer in the fields of mind-body integration, creative thinking, and conscious leadership, he is a sought-after speaker and consultant on creativity and innovation for organizations globally, including DuPont, Genentech, Merck, Microsoft, and Nike. michaelgelb.com
Robert Peng, author of The Master Key: Qigong Secrets for Vitality, Love, and Wisdom, is the founder of Elixir Light Qigong. He uses his spiritual powers and healing abilities to help and teach people worldwide. robertpeng.com
Minke de Vos is a Tao Tantric artist and founder of Feminine Treasures cultivation, Silent Ground retreats, and Tao Tantric Arts teacher trainings. As a Senior Universal Healing Tao instructor and Medical Qigong Master Therapist, she has been practicing and teaching qigong full time for more than 30 years. silentground.com
Michael Winn has been a key figure and pioneer in promoting qigong and Taoist meditation in the West since 1980. He was a two-term president of the National Qigong (Chi Kung) Association, USA, and chairman of the Healing Tao Instructor's Association of the Americas for nine years. He has taught nationally and internationally in Europe, Asia, and South America. healingtaousa.com
Michael Winn has been a key figure and pioneer in promoting qigong and Taoist meditation in the West since 1980. He was a two-term president of the National Qigong (Chi Kung) Association, USA, and chairman of the Healing Tao Instructor's Association of the Americas for nine years. He has taught nationally and internationally in Europe, Asia, and South America. healingtaousa.com
Lorie Eve Dechar, MAc, is an acupuncturist, artist, alchemist, and author of Five Spirits. She teaches a multidimensional approach to healing with her patients, as well as with students at the Tri-State College of Acupuncture in Manhattan, the Institute of Traditional Medicine in Toronto, and at conferences and workshops in the States, and abroad. anewpossibility.com
Roger Jahnke, OMD, has practiced Chinese medicine clinically for more than 25 years. Author of two best-selling books, The Healer Within and The Healing Promise of Qi, he is director of the Institute of Integral Qigong and Tai Chi. IIQTC.org
Mingtong Gu, founder of the Chi Center, is a qigong master who offers the ancient teachings of Wisdom Healing Qigong for contemporary times. Trained at the largest qigong hospital in China, where he helped people with major physical and emotional challenges, Master Gu leads retreats and workshops nationally and internationally. chicenter.com
Robert Tangora teaches Wu style Tai Chi Ch'uan, Spinal Chi Kung, Push Hands, Taoist meditation, and tai chi sword publicly and privately to experienced practitioners. He teaches Yang style Tai Chi Ch'uan privately to practitioners with substantial experience only. He also is certified as a senior level instructor in the Wu Style Short Form.
Cosmic Egg was Born before Cosmic Chicken (photo)
NASA: Egg-shaped nebula tells us the cosmic egg archetype is alive and well. And that the egg shape was in the sky before it came to earth, crossed the road, and birthed the first chicken.
Blessings on Cracking Open your Inner Egg (Dan),
Michael Winn
"Who takes Heaven as his ancestor, Virtue as his home,
the Tao as his door, and who becomes change — is a
Sage." — Chuang Tzu, Inner Chapters
"The Tao is very close, but everyone looks far away.
Life is very simple, but everyone seeks difficulty."
— Taoist Sage, 200 B.C
Register online for on Healing Tao University,
the largest Tao Arts & Sciences program in the
West with 15 week long summer retreats featuring "chi kung"
(qigong) and inner alchemy (neidangong) training. For
more info, see http://www.HealingTaoRetreats.com
Or visit http://www.HealingTaoUSA.com to receive free Inner Smile ebook.<br< div="">
Healing Tao USA    •  Asheville, NC 28803  •  Tel. 888.999.0555