---
Chinese dragons are beneficial beings that transmit ruling power. They rise up from the Earth in the East at Spring Equinox and return underground at Fall Equinox. They guard or chase after a Pearl (= alchemical elixir of our soul essence). Spring Equinox is the best time to call in the Green Dragon of the East as an ally. It will help you birth whatever is needed to grow your highest destiny. Instructions on creating an Equinox ceremony are below.
THIS Sunday March 19 at 7 pm at my home in Asheville: FREE Green Dragon Equinox Ceremony and Crystal Bowl Concert with Kate Beloved. Space limited, must RSVP (hit reply), confirmation will include directions.
Inside Chi Flows Naturally:
2017 TAO TRAININGS: CHOOSE your highest path NOW!
Asheville workshops: contact Jan: 888 999 0555 or info.healingtaousa@earthlilnk.net
1. April 15 – 16, 2017 (Sat/Sun): Asheville. Fusion of the 5 Elements 2 & 3. Psychic Alchemy Opens MACRO-cosmic Orbit, 8 Extraordinary Channels. Details below.
2. April 28-29, 2017. NYC Open Center (212 219 2527). Fri 7-10p: Sexual Energy as Taoist Alchemical Elixir.   Sat 10a-5p: Tao Cosmology of Self-Love, Inner Smile & Red Dragon Orbit
3. May 12-14, 20-21: Romania. Primordial Tai Chi, Wudang Orbit, Star Stepping Qigong. contact: Andrew Fretwell <tao.alchemy@gmail.com>
4. May 17-20, 2017. International Conference of Daoist Scholars. Paris France. (see below)
5. May 26-29, 2017 (Fri – Sun): Omega SUPER QI SUMMIT. See list of teachers below. https://www.eomega.org/workshops/super-qi-summit?source=fweb.winnm.ws
6. June 16 – July 18, 2017:  Asheville. Five Weeks of TAO SUMMER RETREATS. see below – or visit http://www.HealingTaoRetreats.com. You can book 2017 retreats online. $150. deposit saves your spot.
FEEL FREE TO HIT REPLY and RESPOND. I love hearing from you!
Wild Wuwei Qigong atop Glastonbury Tor in England
Dear Lovers of Spring Exuberance,
The springtime sap is beginning to run in the veins of trees, and birds
are magically singing a fresh green world into existence. Something also
begins pulsing in the blood and tingling in the energetic meridians of every
human living in the northern hemisphere.
You don't have to eat anything special or do any kind of exercise to get this free ride – it's a gift to you from Nature. But are you accepting it? Are you using the special Spring Qi to birth what you love most in your life?
Do you have the courage to call in the Green Dragon to help deliver your request to the cosmos? This Green Dragon you may view as an actual entity, or as a metaphor for the spiralling life force within the earth that our body recognizes as the spirit of the East and the daily Rising Sun.
This Monday is the Spring Equinox, the exact moment is 6:28 am EDT on March 20. Monday morning is a perfect time for a ceremony. But this celestial event is energetically huge. I urge you to seize the moment anytime this weekend or early next week to capture the gift that Nature is offering each of us. Equinox is recognized in the Taoist tradition of inner alchemy as one of the four cardinal moments during the yearly cycle. It marks a deep opening occurs in the earth's Qi field.
On the journey between the extreme poles of Great Yin-Winter Solstice and Great Yang-Summer Solstice,  this is a halfway moment of perfect yin-yang equilibrium. When equal night and day express this equilibrium, an abundance of yuan Qi or Original Breath is released due to the alignment between powerful natural bodies. It is an exquisite moment of perfect balance in the marriage of Mother Earth and Father Sun.
The word "equinox" derives from the Latin words meaning "equal night" and refers to the time when the sun crosses the true celestial equator –  the line in the sky extending out from the earth's equator. It crosses from south to north, around March 21 each year. At that time, day and night are balanced to nearly 12 hours each all over the world and the earth's axis of rotation is perpendicular to the line connecting the centers of the earth and the sun.
While the March equinox marks the beginning of spring in the northern hemisphere, it is the start of autumn in the southern hemisphere.
Equinox as Nature's Alchemy
When outer rising fire Qi of Day and sinking water Qi of Night  achieve perfect balance, a third force, the hidden Original Breath (Yuan Qi) and its guiding Original Spirit (Yuan Shen) become more accessible.  Equinox is an outer opening of Nature's inner womb, called the "Mysterious Female" by Taoist alchemical adepts.
The energetic mechanism is different than the solstices, but the effect is similar in making the Original Breath accessible. It is this opening of the Original Breath that re-births and rejuvenates all the polarized streams of energy that define physical life.
A ritual or deep meditation done during any Equinox or Solstice portal is said to be 100 times more powerful than the same action at other times.
Of course, this re-birthing is happening internally (micro-cosmically in our body) every moment, but our self-awareness is vibrationally too slow and too fuzzy to notice. Spring Equinox is simply an external (macro-cosmic) celebration of this cycle in the larger body of Nature. It's so big it slaps us in the face, saying "wake up – it's time to re-birth!".
Western astrology is viewed by many as method of divination. But originally its esoteric function was as an initiatory process of inner alchemy. Spring Equinox is acknowledged as the beginning of the zodiacal New Year. So an adept would set an intent for what they wanted to grow during that new year.
THIS Sunday March 19 at 7 pm – 9:30 pm at my home (if you are close to Asheville): FREE Green Dragon Equinox Ceremony and Crystal Bowl Concert with Kate Beloved. Space limited, must RSVP (hit reply), confirmation will include directions.
Can't make it in person? Suggestions for doing your own Spring Equinox ceremony are below.
Soul Alchemy: Fusion 2/3 April 15-16
• April 15-16, 2017  (Sat/Sun) in Asheville, N.C Sat 9-6; Sun 9:30 am – 6 pm.
OPEN YOUR 8 SOUL CHANNELS: FUSION of FIVE ELEMENTS 2 & 3.
Open Macro Orbit: 8 Extraordinary Vessels, Develop Psychic Abilities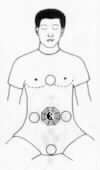 Internalized bagua opens the 8 Extraordinary Vessels    
• Secrets of growing a powerful Energy Body
• Psychic alchemy: open 8 core channels
• Supercharge spine in spirals of golden light
• Open thrusting, belt, arm & leg channels
• Heal chronic illness & deep pre-natal trauma
• 8 Extraordinary Vessels Qigong (on DVD)
• Pangu Mystical Qigong (on DVD)
The 8 Extra Vessels connect the inner and outer Qi (chi) field, and allow you to "dance" between your inner and outer life. The Wudang Mountain version of the macro-cosmic orbit will also be taught as the most powerful internal method I've found for integrating the 8 Extraordinary Vessels into a continuous flowing circuit.
This Wudang Mountain version of the macro-orbit lays a foundation for opening chi flow between the 8 Original Forces of Universe (I Ching trigram-tones). A powerful "8 Extraordinary Vessels" qigong form makes this practice simple to remember. It heals deep psychic imbalances not reached by acupuncture. Many mysterious chronic illnesses can be healed at this deep channel level, much faster than using acupuncture or herbs working on the 12 regular meridians.
This opening of chi flow in the Eight Extraordinary channels links your pre-natal and post-natal energy bodies, i.e. the deep structure of how you birth yourself each moment. This is why the training also opens up psychic abilities. These abilities are simply the result of having clear channels for communication between the soul and the personality.
We'll learn to purify our aura & regulate our Energy Body with belt & thrusting channels. Give to and Receive chi from the environment with Positive & Negative Arm & Leg channels.
Another practice taught is my "9 Spirals of the Energy Body" in the four directions to integrate the Five Shen with the Five Directional Dragons. This practice connects the internal flow of your macro-cosmic orbit out to the edge of the universe and back! A wonderfully empowering and healing journey.
This course lays a strong foundation for Healing Love and Water & Fire (Kan & Li) Alchemy. $144. for weekend, $90. reviewers. Pre-req: Microcosmic Orbit & 6 Healing Sounds (Qigong Fundamentals 1 & 2), live or by homestudy. You can learn the energy channel work of Fusion 2/3 without doing the emotional body/inner pearl work of Fusion 1. But it is optimal to first learn Fusion 1. Contact: Call 828-505-1444 to register or email info(AT)healingtaousa.com
Location:  Asheville Training Center, 261 Ashland Ave., Asheville NC. 2 long blocks south of downtown. Enter alley behind Town & Mountain Realty.
http://ashevilletrainingcenter.com/directions.htm
The Power of Sacred Movement Ritual
Taoist alchemy group tapping the power of Stonehenge with a Primordial Qigong ceremony. Everyone could literally feel the place come alive during the ritual, and memories from centuries past would come flooding in.
For the Equinox and Solstices, I feel the most powerful movement ceremony is doing any kind of sacred ritual movement ceremony. I favor any cosmological qigong, which includes facing all the directions. The movement of the physical body invokes our deepest soul essence (jing) if you are deeply centered while moving. When we combine a qigong movement ritual with specific intent, it becomes neigong, or "internal skill in cultivating the life force".
My favorite ceremonial form, as I've proclaimed many times, is one developed
by the Taoist sage Chang San Feng, the creator of the original 13-movement martial tai chi form
and its spiritual sister, Wuji Gong. Wuji Gong I translate as Primordial Qigong or Tai Chi for Enlightened Self-Love. The "Self" here refers to the merging of our personality with the cosmic Self, and loving their energetic continuum.
For more about its origins and efficacy, see http://www.taichi-enlightenment.com. My eBook on the form is getting closer to completion, and will offer many new insights to its hidden energetic patterns. It's still not too late to send in your experience with the form! (just hit reply).
Other Cosmological Ritual Movement Forms
Are there other ritual forms suitable for an Equinox Ceremony? Yes. The Yang family Tai Chi Qigong form brought to the Healing Tao by Mantak Chia is also a lovely and very grounded cosmological form, as it circles left and right and interacts with the Qi of all five directions.
Deep Healing Qigong is also very ceremonial in nature. It faces all the directions and harmonizes the outer manifesting Qi field with the inward flowing field of vital organ Qi. Doing
just one of its six movements – the three part mandala of Sun-Earth exchange – transports me into an altered state. It's called medical qigong simply because it was developed with that intention. But it could be directed to any other goal.
For Deep Healing Qigong DVD, see: http://www.healingtaousa.com/deep_healing_qigong.html
You can take Steven Sy's excellent retreats on both Deep Healing Qigong and Tai Chi Qigong at our Tao summer camp.
Why Original Breath (Yuan Qi) May Threaten Our Ego Self
You don't have to know a qigong or cosmological tai chi form, although having one that you do
every solstice/equinox is very powerful. Using the same form "programs" and empowers your energy body to contact the yuan Qi at those times.
It helps o capture/embody the elusive yuan Qi, which our polarized egos don't want to notice because it threatens our illusory belief that our physical body is a solid island. Original Qi is boundary-less, so it challenges our belief that the energy we feel is uniquely 'mine", under "my" control.
The truth is no one owns the Qi field, and it is not controlled by any one deity or external agent/God. It just IS. It is self-generating and self-regulating. Everyone can use its abundance if we have the skill to do it. We use it unconsciously all the time. But if we consciously use it to
promote harmony and balance in our life, the Tao will give us more to play with.
If we abuse the Life Force or over control for selfish ends, a natural contraction occurs. We will face increased resistance in our life and Qi flow, resulting possibly in suffering, disease, or early death.
See the section below for suggestions on creating your own Equinox Ceremony.
15 Amazing Summer Retreats to Choose From
Learn from top Qigong, Tai Chi, meditation & healing masters!
Join the largest and most diverse Tao arts community in the West!

Rachel Harding, Registrar
Call her for help!  828 713 2996
Prefer email?   summersupport@earthlink.net
Plan to arrive 2-5 pm the Friday your retreat starts
21 years successful history
Everyone welcome – beginner to advanced
Great people, good food, high energy – at a low cost!
Only 35 minutes from Asheville Airport (AVL)
Get Certified in Tai Chi, Qigong, Energy Healing!
Weekly Tuition only $550. – an incredible value!
Discounts for multiple retreats, Jr/Sr., foreigner, early payment.
Click each retreat to view details.
Select one retreat per week.
Commuters welcome.
To Book, visit http://www.HealingTaoRetreats.com
Week 5: July 14- 19, 2017 (Fri-Wed)
Suggestions for a Spring Equinox Ceremony
Equinox ceremony doing Primordial Tai Chi at sunrise atop Silbury Hill in England, thought to be an ancient pyramid now buried in dirt.
Things to consider when creating an Equinox Ceremony
1. CREATE A SACRED SPACE. Keep it simple. Find or create a sacred space where no one
disturbs you, indoors or out. The more neutral the better – if any element (wind, noise, sun) is too strong, it will distract you. If you light a candle, put it in the east. Ask everyone to wear an item of green clothing. If you have a group, sit or stand in a circle or in the four sacred directions. You can build a simple altar in the center – put a green cloth on a small table or the floor. Add flowers, photos or objects you hold as special (or want to charge up with Qi from the ceremony).
If you can face the rising sun, fabulous. Sunrise is a perfect mini-equinox moment that matches spring. Especially good with morning sun rising in the east, but sun any time adds powerful Qi to your ceremony.
2. FOCUS INTENT and CLEAR LANGUAGE. Get a clear intent as to the ONE thing that is most
important to GROW or birth in your life in this moment. Do not attempt to
wish something for other people or even your own children – let them unfold
their own nature. Be specific, be concrete as to what you want to change and
grow in yourself NOW. Do not use language delaying anything into the future.
Receive support from the Qi field NOW.
I focus the ceremony on calling in the Green Dragon to amplify and broadcast the intent of each participant in the ritual. Do this facing east with spontaneous qigong movements.
3. WHAT TO ASK FOR. Don't feel guilty about asking to GROW material things if they truly
would serve you best at this moment (new car, a different job, a lover). Do not ask for money except for the exact amount needed for a specific purpose – you risk growing unconscious greed or fear of not having money. So you would say, by example, "I need to grow a thousand dollars for a retreat I want to attend". Or "I need to receive $200,000. IN ORDER to grow a new life and buy a house in Hawaii". You don't need to focus on the selling of your old house, just whatever it is you want to grow.
Or grow a specific spiritual quality in your inner body-mind space, such
as a greater capacity for self-acceptance, other-acceptance, abilty to heal
a disease or a broken relationship, deeper power of meditation or movement
practice.
4. RITUALLY COMMUNICATE WITH SACRED DIRECTIONS. After you have established the clear intention, face EAST (direction of Spring, sun bringing new life). Do your movement ritual, which may involve facing and gathering energy from all the directions. If you don't have a qigong or a short piece of a tai chi form, do spontaneous movement. After you finish, face east again.
4. RELEASE INTENTION TO COSMOS.  Infuse a booster shot of yuan QI
or Original Breath from the Equinox field into your specific desire.
Simply feel and mentally focus on your desired goal very strongly, with all
the personal energy you can muster.
Your specific desire polarizes the Qi field. You then release your personal request to the larger cosmic Qi field. This field acts like a cosmic lubricant to broadcast your need. The field of Yuan Qi at Equinox will spontaneously attempt to balance your polarized desire. Nature now knows EXACTLY WHAT YOU NEED. Because of the focus given by your ceremony, it now has an easy path with little resistance to deliver what you truly need.
5. BE PREPARED TO ACCEPT CHANGE. A lot of people forget about this part of
the deal. You want something new, and you do a powerful ceremony at a
powerful time. But that often means YOU have to change in
order to receive what you asked for. This can come as a nasty shock to some.
You get the new lover you asked for, but s/he makes a lot of demands on your
old comfortable way of life. Change is not just external — it must be
matched by internal changes.
I wish you a powerful ceremony and the power to digest what you invoke!
Omega Super Qi Summit May 26 -29 (Fri-Mon)
Healing Ourselves, Healing Others
Conceived and curated by Michael J. Gelb, the Super Qi Summit is designed to allow participants to benefit from the synergy between each of the presenters who together bring more 300 years of experience to the Summit.
The last Super Qi Summit two years ago was a great success. This is for folks who want a smorgasbord of stimulating Qi. If you want focused depth or seek to cultivate a particular skill, take a summer retreat near Asheville in June or July. This May summit is for tasting a little bit from a lot of different teachers, who are each great in this own Way.
The TEACHERS
Ken Cohen, MA, is a renowned grandmaster of qigong and tai chi with nearly 50 years of experience. A former collaborator with Alan Watts, Cohen is author of The Way of Qigong, numerous works in both English and Chinese, and more than 200 journal articles on spirituality and health. kennethcohen.com
Michael J. Gelb is author of 14 books, including the international best seller How to Think Like Leonardo da Vinci. A pioneer in the fields of mind-body integration, creative thinking, and conscious leadership, he is a sought-after speaker and consultant on creativity and innovation for organizations globally, including DuPont, Genentech, Merck, Microsoft, and Nike. michaelgelb.com
Robert Peng, author of The Master Key: Qigong Secrets for Vitality, Love, and Wisdom, is the founder of Elixir Light Qigong. He uses his spiritual powers and healing abilities to help and teach people worldwide. robertpeng.com
Minke de Vos is a Tao Tantric artist and founder of Feminine Treasures cultivation, Silent Ground retreats, and Tao Tantric Arts teacher trainings. As a Senior Universal Healing Tao instructor and Medical Qigong Master Therapist, she has been practicing and teaching qigong full time for more than 30 years. silentground.com
Michael Winn has been a key figure and pioneer in promoting qigong and Taoist meditation in the West since 1980. He was a two-term president of the National Qigong (Chi Kung) Association, USA, and chairman of the Healing Tao Instructor's Association of the Americas for nine years. He has taught nationally and internationally in Europe, Asia, and South America. healingtaousa.com
Lorie Eve Dechar, MAc, is an acupuncturist, artist, alchemist, and author of Five Spirits. She teaches a multidimensional approach to healing with her patients, as well as with students at the Tri-State College of Acupuncture in Manhattan, the Institute of Traditional Medicine in Toronto, and at conferences and workshops in the States, and abroad. anewpossibility.com
Roger Jahnke, OMD, has practiced Chinese medicine clinically for more than 25 years. Author of two best-selling books, The Healer Within and The Healing Promise of Qi, he is director of the Institute of Integral Qigong and Tai Chi. IIQTC.org
Mingtong Gu, founder of the Chi Center, is a qigong master who offers the ancient teachings of Wisdom Healing Qigong for contemporary times. Trained at the largest qigong hospital in China, where he helped people with major physical and emotional challenges, Master Gu leads retreats and workshops nationally and internationally. chicenter.com
Robert Tangora teaches Wu style Tai Chi Ch'uan, Spinal Chi Kung, Push Hands, Taoist meditation, and tai chi sword publicly and privately to experienced practitioners. He teaches Yang style Tai Chi Ch'uan privately to practitioners with substantial experience only. He also is certified as a senior level instructor in the Wu Style Short Form.
Paris Daoism Conference May 17-20
Creativity and Diversity
11th International Conference on Daoist Studies
Nanterre, France, May 17-20, 2017
I will be teaching in Romania during this conference, but if you are nearby it should be worth your time. I have presented at many similar conferences. The focus is more academic than experiential, but qigong trainings will be available. It's a chance to talk with top Taoist scholars in person.
Continuing the tradition of international conferences on Daoist Studies, this year's meeting is hosted by the University of Paris at Nanterre. It's very low cost.
Its theme is "Creativity and Diversity." The focus is on the artistic and specific local expressions of Daoist worldview and practice, both in history and today. Panels and presentations—in English, Chinese, or French—focus particularly on anthropological studies and interactions between Daoism and art, music, ritual, theater, literature, martial arts, medicine, and various skills.
For details and registrations, please visit www.daoiststudies.org and/or contact daoconf@gmail.com.
Nature Constantly Makes Love With Itself (photo)
Carrots go at it with full passion in the spring.
Celebrating the Exuberance of Spring Qi,
Michael Winn
"Who takes Heaven as his ancestor, Virtue as his home,
the Tao as his door, and who becomes change — is a
Sage." — Chuang Tzu, Inner Chapters
"The Tao is very close, but everyone looks far away.
Life is very simple, but everyone seeks difficulty."
— Taoist Sage, 200 B.C
Register online for on Healing Tao University,
the largest Tao (Dao) Arts & Sciences program in the
West with 15 week long summer retreats featuring "chi kung"
(qigong) and inner alchemy (neidangong) training. For
more info, see http://www.HealingTaoRetreats.com
Or visit http://www.HealingTaoUSA.com, to
order books/videos/tapes from the Tao Home
Study program. Call the Healing Tao USA Fullfillment
center at the Mystical Number 1-888-999-0555 or more
ordinary numbers: 828-505-1444, or email
info@HealingTaoUSA.com
Visit http://www.Taichi-Enlightenment.com for a glimpse into
the world's most magical spiritual tai chi form.
To get Michael Winn's FREE 130 page ebook Way of the Inner Smile, with 25 fabulous photos of the world's
most spiritual smiles, go to homepage http://www.HealingTaoUSA.com and subscribe to "Tao News". You will receive his "Chi Flows Naturally"newsletter and get the latest updates.
Newsletter powered by www.ListPilot.com