Songs, Poems & Tributes to Joyce
from her Life Celebration
on June 28, 2008
Dear Friends and Family of Joyce (Anna Joy) Gayheart,
Joyce's Life Celebration Ceremony at our home in Asheville, N. C. on June 28 was very moving for all who attended. Our gardens were in full bloom as she wished it to be. The entry to the Stone Circle was bedecked with the strong scent of beautiful flowering Day Lillies, which she had been breeding before her soul decided it was time to move on.

Joyce's urn and day lillies in the center of the Stone Circle

We sat in between the silent stones of whitequartz crystal, each marked with the Tao trigram symbols of the eight cosmic forces that converge in the ninth position, the center of the circle, the Self. Her bones, ground into ash, were sitting in that center and radiating her essence out to the universe.
I wish to thank everyone who could not attend in the flesh, but sent in your prayers and memories of Joyce or had replied to my letters describing our spiritual heart transplant process. Your words were read – six pages worth – in between live tales and memories shared by those present.
My own tears flowed copiously for most of the two hours of sharing. My heart was filled not with grief, but overwhelmed by the feelings of love and appreciation for life inspired by Joyce. What was really clear to me is how powerfully we humans can spread the essence of our consciousness on this planet – and that essence keeps on vibrating, long after we physically leave. The unique soul signature that defined Joyce's "self" is still vibrating in the earth and gardens, and in the hearts of many who loved her.
A poem written for the occasion by my sister Robin, says it poignantly:
Beloved Joyce
Where you walk
the angels giggle
tickled by your gentle wildness
I have known you
Always
through flowers
and the delicacy
of your
Being
At times
wrathful and unrelenting
drop by drop you cut through
seemingly solid, subtle structures–
The Grand Canyon
Your Great Work
continues
and reveals itself
in your apparent
absence.
in love and gratitude for the kisses planted in my being
and the blessing you effortlessly and gloriously shower upon our Earth.
Your Beauty and wonder are remembered,
with love,
Robin.
---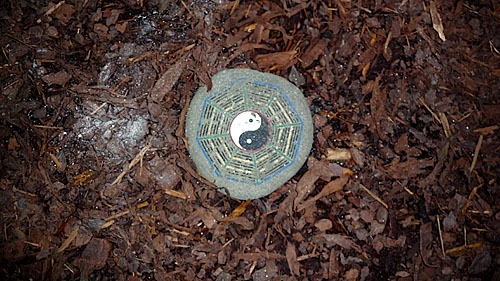 Yin Yang and I-Ching painted on river stone in center of crystal circle, dusted with Joyce's ashes.
After we finished sharing stories and laughing and crying at the great joy and beauty that was Joyce,
we each scooped up a handful of her bone ash and meditated with it. Many, including myself, were shocked by how powerful the vibration of her ash was – it felt like a spiritual fire burning in my hand. We all then walked the land, waiting for a flower or shrub to speak to us, before scattering her bone essence throughout the gardens and in the soil she so lovingly cultivated.
Joyce's love of fertile soil, earth worms, bacteria and micro-rhyzzi that do the yeoman's work in nurturing botanical life and beauty reminded me of an essay on the Tao by Robert Henricks, the scholar who first translated the Mawangdui version (216 b.c.) of the Tao Te Ching by Lao Tzu. His attempt to answer the question, "What is Tao?" was to describe Tao by analogy to the soil. I will paraphrase him.
Tao is the unpretentious and usually overlooked soil itself that supports all Life. Soil is so ordinary we overlook how extraordinary it is. Mostly we walk on it unawares, or only notice what grows from the soil and has some use for us; but the Taoist cultivates an appreciation for the ground itself. Tao is the ground from which we each grow our own Way, our personal Tao. If we live with integrity and authenticity, Tao supports our growing into the wildest forms of beauty and life experience imaginable.
Qigong, meditation, and the healing arts were among Joyce's favorite activities. But gardening was her most favorite qigong form. She transformed it's mundane aspects into a high level qigong by the energetic quality of her approach to each plant and to the soil itself. Her plants grew healthy because she poured her inner water and spiritual fire onto them. It was a sacred dance. They responded by guiding her deeper into awareness of the sacred ground within and all around us. Joyce had entered deeply into this Mysterious Field. She surrendered into being fully present with the presence of Nature.
I thank Joyce for all her gifts scattered about the landscape. Every day I am home, I walk the grounds, and feel the ground radiating back her love as a joyful jungle of greenery and explosions of fragrance. And I wonder if her unexpected leap into my heart after death is now, finally, giving me the patience to truly appreciate the garden of life. I still sense her soul current in my heart, astrongcurrent that feels as if it is flowing from her inner ground, the "celestial soil" of her heart's oversoul.
I am acutely aware that my new androgynous heart flow is reshaping my own life. I feel the first buds of some new mystery being slowly revealed, like aDark Goddess rising up from deep earth. What it will flower into is not yet clear. My teaching has changed in subtle but powerful ways, and I know it is her influence. And I've noticed a desire in me for the color of soil, deep rich brown, to also be the color of the hair of the next Goddess in my life. Earth, worn like a fertile garden atop her crown. Patience, Tao grows as it will….
Peace, love, blessings,
Michael

---
A song I wrote, inspired by Joyce
By Barry Spendlove
Gay heartedJoyce
with her fabulous voice.
Who could avoid being touched, deeply,
not me.
My memories are of a beautiful woman,
wide eyed, open hearted, laughter laden,
transforming her pain to love,
her hawk to dove.
Blossoming beauty,
celebrating, exuberating
her inner strife
into a radiance of life.
Our moments together were short but always precious.
time in Sedona,the Grand Canyon,Glastonbury andChina
Incredible places lit by her presence
her prescience and her love
Often Joyce slipped into my dreams
my thoughts, my process.
Thank you Joyce
Love, Barry Spendlove (in UK)
Michael,
I pondered about writing something for Joyce but I have to conclude that the 'relationship' I had with Joyce was not this~wordly, so I have nothing to add in words that can come close to my feelings.
I felt her as a mother and a sister alike, I saw her as a mirror for several things and I have a connection with her beyond this world, a thread of recognition but all that I don't feel I can share. I will think and honor her in my own way….
With love Wendy Scheers
You are in a place now where you know everything, so I will not pretend to have any secrets. ??I assume you know now, that when you left your college things at home for the summers, that I went through your clothes and read all of your books. I was awestruck by your neatness after the turmoil of our household and was amazed by the courage it took to go away to work without help. You were so brave.
I know how you loved your gardens and were maybe a little sad when you had to leave them behind, as I was when I had to leave mine. When the day lilies I sent you survived the postal system and flourished in your care, you always told me when they bloomed that you always thought of me. I hope they are blooming now so that your celebration will be complete.??
We were blessed with our love of flora by Mother; everything she planted grew wildly and extraordinarily, especially her roses. She was a true ROSE herself, even if she did have a cow for a namesake.
I miss you and love you very much and know that you are with Mother now in the most magnificent of gardens.
Always in my thoughts, Your Sister Carolyn
In Memory of my dear older sister, Joyce, from your loving brother, Daniel.
I am indebted to you for all of the time we spent together when we were at home budding into human beings. You were our wise leader and teacher. For my introduction to the healing arts, and the time we spent in seminars learning and sharing, I am grateful.??My memories of all of our time together are clear and vibrant in my soul. You are always with me in spirit.
Wishing you a wonderful celebration
Joyce was a glowing being with an inocent and playful inner child and once in a while you could see some mischief in there which I loved so much..
Karin Sorvik
To my big sister from your little sis, Debra Kay
I know that Mother let you name me. Carolyn says you made a list and narrowed it down with Mother to the final choice. I also know that you took responsibility for me as a tiny baby; clothed me, fed me and changed my pants.
Although, photos tell the tale that later, I took to being nude a good deal of the time.
I must have been a lot of work in addition to your other duties. I never really thanked you for loving me through everything and I wished for more time together as friends. Maybe someday in another time we can make up for that. I miss you very much and suffer a enormous loss in my heart.
Your loving sister, Deb 27-Jun-08
---
Alan Graham and I are sending a beautiful live flowering gardenia to the celebration and memorial. It should arrive tomorrow hopefully.
It was my great delight and pleasure to study Healing Love with Joyce twice. Both times I was touched by her calm, kind, wise,& loving presence. She created a container of safety for a highly varied group of women to openourselves to one another in pursuit of deepeningour ability to love and be loved. Joyce's rhythmic and hypnotic voice carried us to hitherto unknowninner places deep within ourselves. We walked outside together in the company of great mountains, gardens of flowers, and sacred stones and felt the earth touch our bodies and souls. We laid down on the earth and connected to the eggs within ourselves, feeling the sacscommunicate with us through vibration, color, and movement.
With Joyce's leadership we danced our eggs to joyful Polynesion music and felt them shake and vibrate with the vitality of the living sounds pulsing through our bodies. We cultivated these spirit eggs and released them into the ground to allow them to grow and come to fulfillment. Joyce led us as a wise and lovingmidwife, watching over the birthing souls of all the women present, her own countenance radiant, clear, and rosy. At the conclusion, each woman left feeling more alive to her own true nature. Joyce, functioning as a modern yet ancient priestess, guided us in woman rituals and ceremonies, calling us to celebrate our yin nature, yin power, and freedom to scatter love, pleasure—flowering petals along our unique and invidual pathways.
Thank you Joyce! I send my blessing to you now as your soul continues on its journey. May you be joyful….may you know you are loved….may your radiant true essence shine now on your own self and all you love!
Sandy Seeber
Dear Michael and all who loved and love Joyce.
I t celebrate the life of Joyce. I always admired her for being a strong, independent woman, always with her own interesting perspective and joyful way of articulating her depth of wisdom. I thoroughly enjoyed her laughter, her appreciation of life's ironies and richness; her love of life and beauty. I especially loved it when she joined us for Living Story Theatre and will always remember her telling stories of magic, of connecting with Nature and Spirit, and of some spicy escapades as a young woman – all with an impish twinkle in her eyes. She was a delight to know and I welcome her continuing presence in my life, in whatever form or way that may occur, even if just in memory. She continues to bless me, as I am sure she blesses all, for all time.
Much love to all, this wonderful day of celebration.
Dear Michael,
Hello! Thank you for inviting me to your lovely celebration for Joyce. Two things in her honor: For those of us who are devoted to the animal and trees/flowers/plants meditative path, I salute you Joyce for being a co-traveler. This work is underappreciated but real; I believe you continue it where you now are.
Last fall I met Coleman Barks at a celebration of Rumi's 800th birthday. It was also the occasion of the publication of some 90 of Rumi's poem's he'd translated, which had never been published before. I asked Joyce which of them she'd like to hear at her ceremony, and, what I heard was, "This one for Michael." I said, ok, but why can't you hear one for yourself, too? to which she revealed the second one.
1. For Michael: A Story They Know
It is time for us to join the line of your madmen all chained together.
Time to be totally free, and estranged.
Time to give up our souls,
to set fire to structures and run out in the street.
Time to ferment. How else can we leave the world-vat and go to the lip?
We must die to become true human beings.
We must turn completely upside down like a comb in the top of a beautiful woman's hair.
Spread out your wings as a tree lifts in the orchard.
A seed scattered on the road, a stone melting to wax, candle becoming moth.
On the chessboard a king is blessed again with his queen.
With our faces so close to the love mirror, we must not breathe,
but rather change to a cleared place where a building was and feel the treasure hiding in us.
With no beginning or end we live in lovers as a story they know.
If you will be the key, we will be tumblers in the lock.
2. For Joyce: Harvest
As the sun goes down in its well,
lovers enter the seclusion of God.
Late at night we meet like thieves
who have stolen gold, our candlelit faces.
A pawn has become king.
We sit secretly inside the presence like a Turk in a tent among the Hindus,
and yet we are traveling past a hundred watchmen, night-faring, drowned in an ocean of longing.
Sometimes a body rises to the surface
like Joseph coming out of his well of abandonment
to be the clarity that divides Egypt's wheat fairly and interprets the royal dreaming.
Some people say about human beings, Dust to Dust.
But how can that be true of one who changes road dust to doorway?
The crop appears to be one thing when it is still in the field.
Then the transformation time comes,
and we see how it is: half chaff, half grain.
Best of chi, Susan Kain
================
Hi Michael,
Dr. Lu Ping and I both want to convey our condolence and regards to youon the loss of a great, loving person such as Joyce. She left a deep impression on Lu Ping, and he specifically asked me to let you know so.May Tao bless youon your future ventures.
Lu Ping and Anna Wong
---
I was deeply honored by having the opportunity to know Joyce, to experience the soft, loving way that she imparted her knowledge, to be touched by her gentle, disarming presence, to be inspired by her connection with the natural world, and to learn from the transmission of her wisdom in her passing. Sincerely, Brian Lewis
---
I never got to know Joyce. However, there was always a sense of soul connection and resonance between us. My strongest memory of Joyce was in 1995 when thirteen healing tao instructors took a week-end course in the Sedona Method from Hale Dwoskin while staying at their desert retreat center. Joyce had a special reclining chair to make it possible for her to attend the program as she was experiencing severe pain from an automobile accident. There were three of us that week-end who shared the motivation to bring the work as deep as possible; we all had in common profound healing needs. Despite being in pain, Joyce radiated a simultaneous exuberance, grace and gentleness. Her presence helped shape the experience for us all.
Judith Poole
---
As you know, I work as an intuitive. When I meditated upon Joyce in the days after her physical passing, I was told and shown that she and her wisdom would live on through you. This was comforting to me. Two Memories Id like to share:
First,
Shortly after Sept 11th, I came to your home for a small women's Feldenkrais/ChiGung class. Joyce guided us into the most peaceful and grounding postures and meditations which allowed us to regain balance after the shock of 9/11. She gently helped all of us through body,mind and spirt to regroup and feel safe again in our bodies and on the earth.
I am so grateful to have experienced and shared her beautiful calming healing presence and huge open heart during that very difficult period.
She generously gave us a bottle of her wonderful flower essence, Divine Love, as a parting gift.
Second:
I was preparing to leave Asheville for new Mexico in March 2003. Joyce gifted me with a beautiful purple cut- velvet shawl that she had bought in China. It was one of the most precious and moving gifts that I have ever received. We posed for a picture wearing the shawl together.
I will always treasure that moment and the wonderful photo with her beaming, angelic face smiling out at me.
Many Blessings to You Both!
Dear Michael,
Thank you for sharing the celebration of the life of Joyce Gayheart with us. I was moved and saddened, but with an underlying sense of joy that her life touched the hearts of so many people. Although I did not meet her, I was a frequent visitor to her web site, and feel that meeting her was unimportant as her life and work continues to affect the lives of people who are linked, in some way to her.
Dear Michael, Just a note to let you know that I will be tuning in tomorrow with the memorial day celebrations. I am so happy to know Joyce, and I love her.When I think of Joyce I see her smiling eyes, always her smiling eyes, and I know she is smiling still.Myheart feels happy in just knowing her. Best to you and all who gather with you tomorrow. Chilong, Cynthia
---
TurnerIn the last two days , Joyce has been with me in my meditations , mothering me on in a nice loving way to do more chi kung. It has been nice.
I wanted to share my thought that in her presence – i feel like a child with her as a beneficientmother, and perhaps there are many others who feel this way, a legacy of her mothering us on. I thought of this in connection with your email about her reconciling not having children– I wonder and I think she would be pleased of how her presence feels to me. in my meditations.
received and shared blessings
Mikey, You are hysterical. And so, so beautiful. Your journey is truly amazing. Thank you for sharing it so articulately. I would love to come to Joyce's garden bash – but a bit tough right now alone with two kids since Tresa and I split up.
read an article in the Portland Press Herald about a man who died recently. He was the recipient of a heart transplant from a man who shot himself to death. The man was very grateful to the family of the deceased, and later became romantically involved with the 27 year old wife of the man who shot himself. After years of marriage to her, the man, the donor heart recipient, shot himself to death.
I was struck by this article because of your journey of fusing hearts with Joyce. Somehow this man fused with the dark shadow of the man's heart he inherited. But you have joined in Joyce's heart in the light, which is making an even brighter light.
I absolutely loved the picture of you with your mutilated chin-hairs. You look adorable! If I wasn't your star sister, I'd marry you in a minute! love Heids
Oh, Michael, your journey with Joyce – how beautiful…mythical…stunning…profound. I can feel all this in my own heart. Mmmm. Thank you. For sharing it. For speaking it. Amazing. Smiling, I thank you both. Laura Humphreys
Dear Michael and Joyce,
My heart indeed reaches out in love to you. Thank you for sharing the story of yourmiraculous merger.
A few months ago I would have found all this very strange, but having spent time with several great shamans here, most recently Michael Harner, now it just makes sense. Very warmest affection – Allan Combs
you told me once about the intensity of the Pyramid initiation that you and Joyce shared for 6 hours together in dreamtime. and the effect on your eyes.
You once said that the liver's quality is to reach out and connect…. with all Joyce's help to heal others – she reached out so much, and it may have been hard for her liver too.
she has a very special place in my Heart and I spontaniously start laughing as I realise now that her Heart has this very special place now litterarly in your 'Subtle Heart'
thank you soooooooooooooo much for sharing
it is a true and for me best 'Michael and Joyce' story
since you were an absolutely very fine couple in my eyes. thank you thank you thank you
Quoting Michael: "I'm just starting to appreciate the immensity of the consequences of Joyce's choice to leap into my heart. Indeed!
When I perceived (Inner Smiling) the new fusion and transformation that had occurred, I felt a change, a rotation, of "my field/my future/the probable unfolding of my destiny" that extended beyond the personal, meaning, I felt that somehow the consequences of your process with Joyce had DRAMATICALLY shifted the chi field of the ENTIRE
HUMAN OVERSOUL.
my feeling is that humanity's unfolding has been shifted on the fulcrum of your love, with totally unpredictable repercussions. Or, as I put it in my enthusiasm, not
hyperbolically though, I think that what happened in your cabin in five days will have more of an impact on humanity's collective unfolding than anything that's happened in the White House in the last five years.
I'll can also confirm (intersubjectively) for you, that, to my Cancerian sensors, your new heart vibration is NOT SUBTLE but is like getting blasted in the face with a VERY special kind of love. [That you have been entrusted with such a power (Promethian fire!) by the oversoul is (de facto) an extremely high vote of trust in your abilities and intentions.
That which can be wrought with such a fire! WOW!
Chi, Patrick McLeod
---
Beloved Joyce
Where you walk
the angels giggle
tickled by your gentle wildness
I have known you
Always
through flowers
and the delicacy
of your
Being
At times
wrathful and unrelenting
drop by drop you cut through
seemingly solid, subtle structures–
The Grand Canyon
Your Great Work
continues
and reveals itself
in your apparent
absence.
in love and gratitude for the kisses planted in my being and the blessing you effortlessly and gloriously shower upon our Earth.
Your Beauty and wonder are remembered,
with love,
Robin
---
Michael,
Today I remember being in Sedona with you both. Jampa taught the Smiling, Swimming Dragon. I practice it to this day. This morning in a wooded copse in Vermont I opened it up, anchored it to the ground, and a smile arose like a flower blooming.
On this occasion of Joyce's memorial festival,
I offer my smiling dragon to accompany you both in this journey we are making through the woods.
Love,
Dear Michael,
I will take some timelate this afternoonto againoffer my gratitude for all the gifts Joyce offeredto meso lovingly and with open heart…a treasure to me for always. I can feel her close right now….there is a lifting and brightening….just like when I stepped into a space where she was while she was on her earth journey. My heart is filled with love for you both. Suzanne Tannehill
Dearest Michael,
Sending special wishes, love and prayers to you on this special day of commemoration and celebration. I say celebration because the vibration that was and is Joyce Gayheart makes one feel that way. I say that because she had a way of bringing a sublimity of spirit to situations of life that would overwhelm most people. Anyone whose life she has ever touched must hold that experience as deep and sacred in their heart. As a touchstone for their own times where resolute strength and inner happiness are needed.
It is almost as if the burdens she received she transmuted to a kind of blessing through which she could do her work on earth. In the tradition where Christ provided a timeless portal for anyone in the direst straights of physical and emotional suffering to be able to claim their sovereignty through absolute love and forgiveness, so dear Joyce's passage on this earth has shed a light in such a way. She took such joy in the simple beauties of creation and gave thanks for the gift of life each day.
Although I have not seen Joyce in many years, I cannot imagine her in any other way. My heart reaches out to those close to her who must miss her so very much, but take solace in the fact that her suffering is over and she has done so much in this life to cultivate the rose gardens of the heavenly realms, and that we know that now she delights in their sweet and blessed fragrance.
With Infinite Love
Penny Slinger Hills