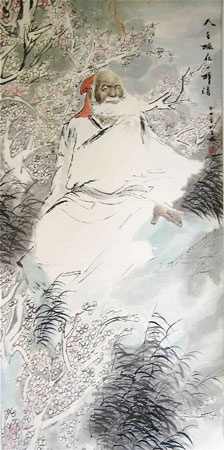 Are you considering becoming a Healing Tao Instructor?
Welcome to the wonderful path of sharing the Tao, the Natural Way to health and spiritual wholeness!!
Healing Tao USA is eager to train more Instructors in the Taoist movement, healing, and meditation arts. We feel this is one of the most worthwhile things a person can do with their life — empower others to become more healthy and live in greater peace, harmony and balance.
Tao is a direct and natural path to fulfilling both your worldly and your spiritual destiny. It focuses on what is practical and most effective. No dogma, no gurus. A wide variety of trainings that let you focus on what suits your nature best.
ASSOCIATE INSTRUCTOR:
The "fast track" training program is to first become an Associate Instructor. That certifies you to teach the Qigong Fundamentals: Inner Smile, Six Healing Sounds, Microcosmic Orbit, and core qigong.
BENEFITS:
Associate Certification carries the same benefits as Full Instructor Certification:
discounts on retreats and teacher review trainings
40% discount on most of Michael Winn and Mantak chia DVD/Cds and books
advertising and referral system support for promoting your website and classes
energetic backing of a powerful community of practitioners
right to use HTIA-owned condo in Thailand at Tao Garden at very cheap rate
feeling of belonging to a really fun, enlightened spiritual community waiting for you wherever you go on the planet (or the inner planes!)
REQUIREMENTS:
Requires 70 hours live training in any of these courses: Qigong Fundamentals 1-4, Iron Shirt Qigong 1-3, Fusion of the Five Elements 1-3, Healing Love (Taoist Sexology), or Tai Chi Chi Kung,
Minimum one year's practice. Then followed by 35 hours of training in the Qigong fundamentals (a.k.a. Tao Basics) with a Senior Instructor.
These requirements can be met by:
Attending summer retreats in North Carolina's Blue Ridge Mountains (each retreat counts as 40 hours). See www.HealingTaoRetreats.com
Attending trainings of any other certified Healing Tao or Universal Tao (abroad) instructor.
---
FULL INSTRUCTOR:
For full description of Certification Requirements in each kind of qigong or meditation level, set by the Healing Tao Instructor's Association of the Americas, please see:
Healing Tao Instructor Certification Requirements
(visit
http://www.healing-tao.org
).